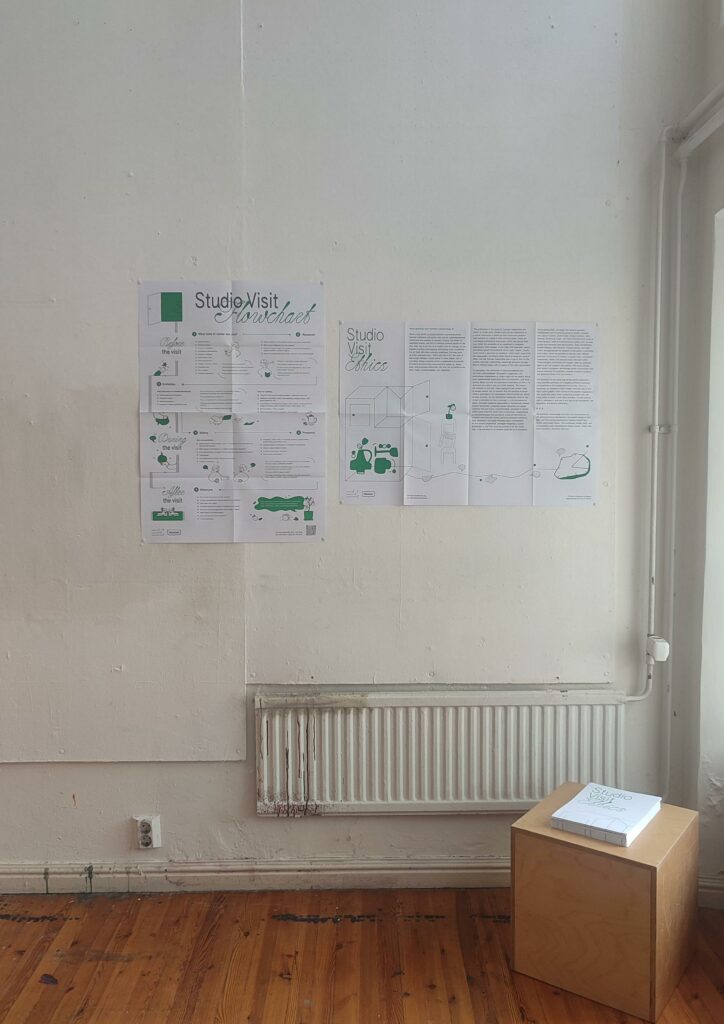 The Studio Visit Ethics project gathers artists' lived experiences to investigate and challenge how studio visits are normatively (and uncritically) conducted. The project responds to needs raised by our artist collaborators for tools they can use to address the often unequal power dynamics that arise during studio visits.
The project included a series of workshops and studio visits facilitated by FCH (Gladys Camilo, Paola Jalili, Katie Lenanton, and Orlan Ohtonen) and in collaboration with Ignata Elana, Özgü Gundeslioglu, Natalie Hamada, Sasha Huber, Sonya Lindfors, Sara Moayed, Thomas Moose, Vidha Saumya, Shubhangi Singh, Kaino Wennerstrand, and Haliz Yosef.
As a result, a printed and digital poster publication was launched by FCH, designed by Anh Ngo. It includes a flowchart that maps possible pathways for navigating different moments and positions during studio visits. The publication has been distributed amongst our networks, and a few printed copies are still available for organisations and institutions that are interested in the project (please contact us at info@feministculurehouse.org if you'd like a print copy, we kindly ask for a donation in exchange).
The publication is also free to download, share, and print using the link below. Please credit Feminist Culture House when sharing or presenting it.
Clicking this link opens the downloadable pdf of the publication.
Erratum: we're sorry that this first edition of the SVP publication contains a typoed artist name: Ignata Elana was mistakenly written as Ignata Elena.