Selvät Sävelet
Selvät sävelet – ohjeita kuraattoreille, gallerioille ja instituutioille työskentelyyn trans- ja muunsukupuolisten sekä muiden sukupuolivähemmistöihin kuuluvien taiteilijoiden kanssa
Ensimmäinen julkaisumme on suomenkielinen käännös ohjeistuksesta sukupuolivähemmistöjen oikeudenmukaiseen kohteluun taiteen kentällä. Ohjeistuksen ovat kirjoittaneet taiteilijat Archie Barry ja Spence Messih. Laajemmat tekijätiedot alla.
English: Our first publication is a Finnish translation of guidelines for enhancing the working conditions of trans, non-binary and gender diverse artists. The guidelines are written by Archie Barry and Spence Messih. More info in English below.
TILAUSTIEDOT: Selvät sävelet on ladattavissa ilmaiseksi allaolevan linkin kautta. Toivomme kuitenkin, että taiteen organisaatiot maksaisivat julkaisun käytöstä vapaaehtoisen summan (esim. 10-20e / lukija). Rahat käytetään  työhömme aliedustettujen taiteilijoiden kanssa. Tarjoamme myös koulutusta Selvät sävelet -ohjeistuksen käyttöön, lisätietoa koulutussivuiltamme.
Printattu kirjanen on tilattavissa täällä Booky.fi -sivustolla.
Laskut vapaaehtoisille summille: info@feministculturehouse.org
Selvät sävelet -PDF löytyy kansikuvia klikkaamalla. Sininen (translipun värit) on printtiversio ja keltainen (ei-binääristen lipun värit) on digitaalisesti saavutettavampi versio.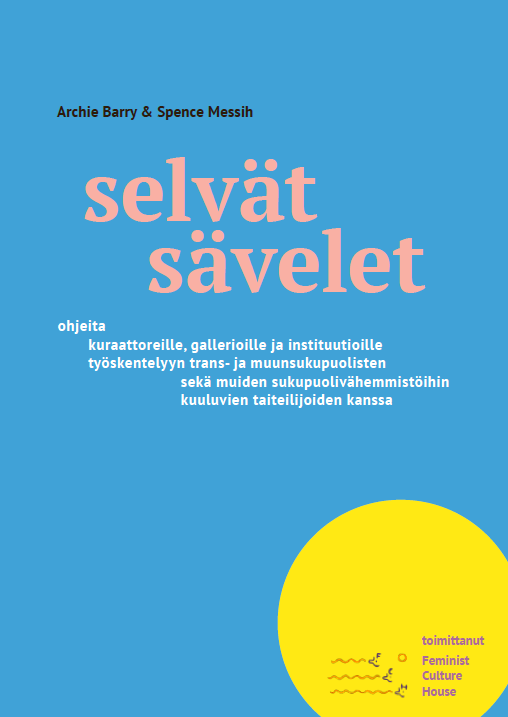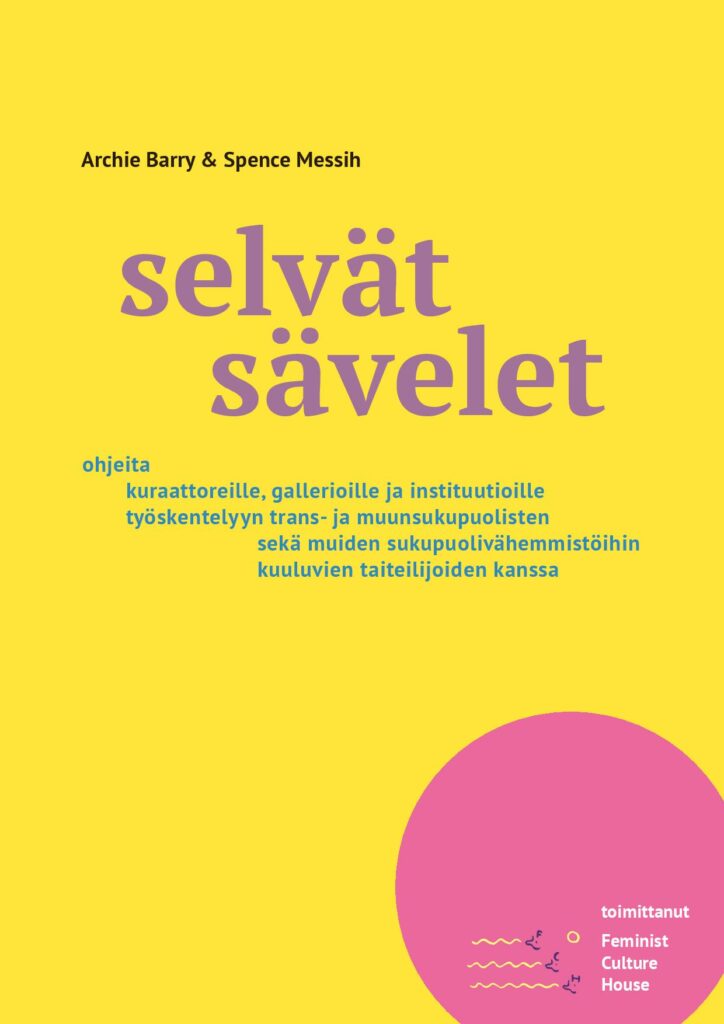 Koska kieli muuttuu jatkuvasti ja opimme tekijöinä lisää päivittäin, kuulemme mielellämme palautetta julkaisusta. Voit myös kirjoittaa meille, jos tiedät julkaisun, joka kaipaisi mielestäsi kääntämistä: info@feministculturehouse.org
JULKAISUN TIEDOT // PUBLICATION INFO:
Kirjoittajat // Writers: Archie Barry ja Spence Messih
Englanninkielinen alkuperäisversio // Original version in English, PDF on Countess website: Clear Expectations – Guidelines For Institutions, Galleries And Curators Working With Trans, Non-Binary And Gender Diverse Artists, 2019
Suomenkielinen käännös // Finnish translation:
Kääntäjä // Translator: Johanna Koskinen
Toimitus ja kustantaminen // Editing and publishing: Feminist Culture House
Toimituskunta (oikoluku ja kontekstualisointi) // Editing committee (proofreading and contextualisation) : Orlan Ohtonen, Kid Kokko, Even Minn, Jara Pohjonen, Shady Stardust, ja Taneli Viljanen
Graafinen suunnittelu // Graphic design: Jara Pohjonen
Suomennosta varten tilatut tarrakuvitukset // Sticker commissions:
Chih Tung Lin (Wendy)
Savu E. Korteniemi
LEHDISTÖTIEDOTE S1 // PRESS RELEASE IN FINNISH P1
LEHDISTÖTIEDOTE S2 // PRESS RELEASE IN FINNISH P2
ENGLISH:
Click one of the cover images for Selvät sävelet PDF. Blue one (trans flag colours) is for print, and yellow one  (non-binary flag colours) is digitally more accessible.
ORDERING DETAILS: Selvät sävelet is free to download via above link. However, we hope that art institutions using it would pay a voluntary fee towards our work with underrepresented artists (for example, you can pay 10-20e / person using the document). We also offer training for organisations in relation to the publication, please find more info on our  training page.
Print orders from Booky.fi via this link
Invoice request for voluntary fees: info@feministculturehouse.org