Workshops & Events
In 2021, we offer workshops and training in Finnish, English and Arabic that:
// Reflect on the Call for Action letter for Art Institutions in Finland, to help plan both short and long term practical steps
// Discuss why organisations need to be diverse; what intersectionality is in relation to diversity; how to recruit with diversity and inclusion in mind, and how to be accountable once you've found those people
// Foster anti-racism and gender inclusion in communication or programming practices
// Share anti-racist practices and ways to unpack whiteness
// Use our first publication, Selvät sävelet, as a tool for improving the working conditions of trans, non-binary, and gender diverse artists
If you're interested in hearing more about the workshops, please email equity@feministculturehouse.org
 January 2021:
We're emerging from hibernation and celebrating with a contribution to "Midsummer Rose", an exhibition by artist duo Lukas Malte Hoffmann and Susan Kooi at Outo Olo in Helsinki, which runs from 16 January-14 February.
The gallery space isn't open to the public but is viewable through the streetside window. The space's illumination will follow the rhyhm of midsummer light.
Our contribution grew from some notes from last midsummer—a cocktail recipe that was conceptualised for those foraging and making infusions. We are proud to share space with artwork companions from Man Yau, Malibu, and Susan Ploetz.
There will also be an online LARP on 14 Feb—more details and sign up via the Outo Olo website. This link will take you there.
Thanks Lukas & Susan for having us <3
August 2020:
Peer group for trans, non-binary and gender non-conforming artists meets on 25 Aug in Loukko, Helsinki, with the new group host Pihla Lehtinen. This link will take you to the peer group's page with more info.
June 2020:
Together with Pinkkimusta Helsinki and Islamia Queeristi, FCH co-organised a demonstration for trans and queer rights in place of Pride. The event took place at 3pm on Saturday 27 June in Helsinki, with speeches from Queen Selena from Wasla collective, Wisam Elfadl from Islamia Queeristi and Maija Baijukya. Here are links to the Instagram sites of Pinkkimusta Helsinki and Maija Baijukya, and to the website of Islamia Queeristi.
The event on Facebook >> Pride Takeover 
POSTER PREORDERS ARE OPEN!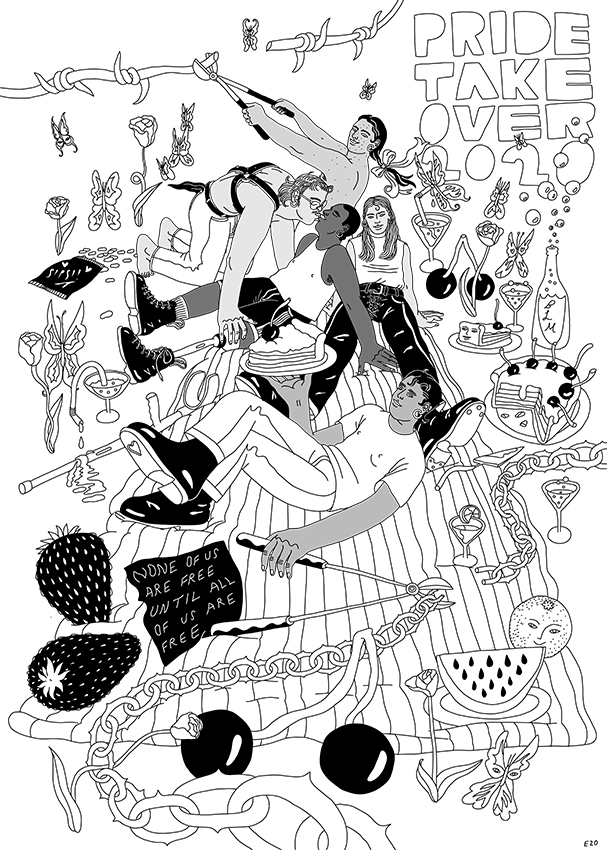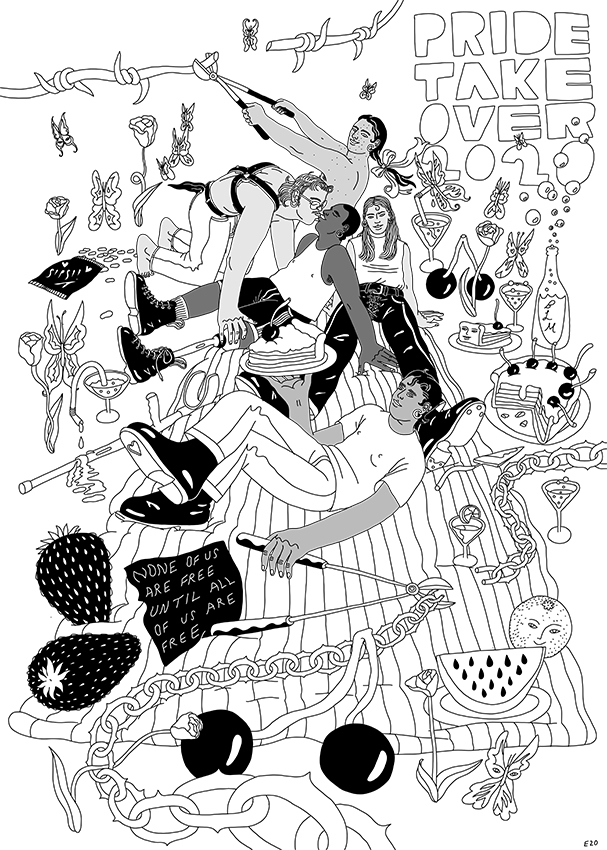 PREORDER!
(See below for Finnish // SUOMEKSI ALLA)
This is your chance to support and fund the accessibility measures and organisational costs of PRIDE TAKEOVER: Bring Back The Brick demonstration that took place on Saturday 27 June 2020!
Buy a beautiful, handprinted poster by Edith Hammar!
The price of one poster is on fixed sliding scale of 20,00–50,00€. If you want to—and are able to contribute more than the maximum amount on the sliding scale—we encourage you to do so. If you want to donate only without buying the poster, that is also recommended. (Please check your privilege and use it here.)
Place your order by sending an email to activistaccessfund@gmail.com at the latest on Friday 7 August 2020.
Please make sure that the email includes the following information:
1. Name and email address
2. Amount of posters
3. Amount of payment
4. Select pick up location in Helsinki: Mustan kanin kolo (Hämeentie 26), Feminist and Antiracist Studio Space Poimu (Kuortaneenkatu 13, https://poimuspace.wordpress.com/how-to-find-us/) or Museum of Impossible Forms (Keinulaudankuja 4 E,https://museumofimpossibleforms.org/gettingthere)
5. If you do not live in Helsinki or don't have access to these locations, we will post the posters to you.
6. Let us also know, if you need a receipt from your order.
(Please note, that we work on a voluntary basis and have limited capacity with posting orders. If you are able-bodied and/or live/visit in Helsinki, please pick up your order.)
We can accecpt the maximum of 100 orders. We will comfirm you if your order has been accepted by sending an email with the account number for transferring the payment. The first batch of the posters will be printed in August. We will inform you by email when the printing is finished and the posters are ready for pick up. After this you may collect your ordered items from your selected location in Helsinki by stating the name in your order information. If we are faced with a great demand, we will aim at printing a second batch.
Since this campaign aims to cover the costs of the PRIDE TAKEOVER, any additional profits will be used to cover the accessibility costs for demonstrations and small scale activist initiatives fighting for social justice.
Key principles: No racism, no transphobia, no homophobia, no cis-heterosexism, no misogyny, no ableism, no sanism, no classism, no fatphobia, no speciesism.
We are working at a slow pace, please adjust you expectations. Thank you for supporting our endeveavours towards more accessible activism and social justice work. We love you <3
If you need any help with placing the order or have any questions, please contact us via email: activistaccessfund@gmail.com
The Activist Access Fund is initiated by a group of individuals working towards more just practices in activisim and social justice work in Finland. The payments are collected to the fund by Feminist Culture House.
ENNAKKOTILAA!
Nyt on tilaisuutesi tukea ja rahoittaa lauantaina 27.06.2020 järjestetyn PRIDE TAKEOVER: Bring Back The Brick -mielenosoituksen saavutettavuustoimenpiteitä ja organisatorisia kustannuksia! (Facebook-tapahtuma: Osta upea, käsinpainettu juliste, jonka on suunnittelut Edith Hammar!
Yhden julisteen hinta on kiinteällä liukuasteikolla 20,00–50,00 €. Jos haluat ja pystyt maksamaan julisteesta enemmän kuin liukuasteikolla määritellyn enimmäismäärän, suosittelemme sinua tekemään niin. Jos haluat tehdä pelkän lahjoituksen ostamatta julistetta, sekin on suositeltavaa. (Huomioi etuoikeutesi ja käytä niitä tässä.)
Tee tilauksesi lähettämällä sähköposti osoitteeseen activistaccessfund@gmail.com viimeistään perjantaina 7. elokuuta 2020.
Varmistathan, että sähköposti sisältää seuraavat tiedot:
1. Nimi ja sähköpostiosoite
2. Julisteiden määrä
3. Maksun määrä
4. Valitse noutopaikka Helsingissä: Mustan kanin kolo (Hämeentie 26), Feminist and Antiracist Stucio Space Poimu (Kuortaneenkatu 13, https://poimuspace.wordpress.com/how-to-find-us/) or Museum of Impossible Forms (Keinulaudankuja 4 E,https://museumofimpossibleforms.org/gettingthere)
5. Jos et asu Helsingissä tai sinulla ei ole pääsyä näihin paikkoihin, postitamme julisteet sinulle. Lisää tässä tapauksessa tilauksesi yhteyteen myös postitusosoite.
6. Liitä tilaukseesi kuitti suoritetusta maksusta.
7. Kerro myös meille, jos tarvitset kuitin tilauksestasi.
(Huomioithan, että työskentelemme vapaaehtoisesti ja meillä on rajallinen kapasiteetti tilausten postittamisessa. Jos sinulla on kykynormatiivinen keho ja asut/vierailet Helsingissä, noudathan tilauksesi.)
Voimme ottaa vastaan enintään 100 tilausta. Vahvistamme sinulle, jos tilauksesi on hyväksytty lähettämällä tilinumeron sähköpostitse. Julisteiden ensimmäinen erä tulostetaan elokuussa. Me ilmoitamme sinulle sähköpostitse, kun painatus on valmis ja julisteet ovat valmiita noudettaviksi. Tämän jälkeen voit noutaa tilaamasi tavarat valitsemastasi sijainnista Helsingissä ilmoittamalla tilaustiedoissa antamasi nimen. Jos julisteilla on suuri kysyntä, pyrimme painamaan toisen erän.
Tällä kampanjalla katetaan PRIDE TAKEOVER -mielenosoituksen kulut, ja kaikki ylimääräiset voitot käytetään mielenosoitusten ja sosiaalisen oikeudenmukaisuuden puolesta taistelevien pienimuotoisen aktivistisen toiminnan saatavuuskustannusten kattamiseen. Keskeiset periaatteet: Ei rasismia, ei transfobiaa, ei homofobiaa, ei cis-heteroseksismiä, ei misogyniaa, ei ableismia, ei sanismia, ei luokkasortoa, ei lihavuusfobiaa, ei lajisortoa.
Otathan huomioon, että työskentelemme hitaasti. Kiitos tuestasi aktivismin saavutettavuuden parantamiseen ja sosiaaliseen oikeudenmukaisuuteen. Olet ihana <3
Jos tarvitset apua tilauksen tekemisessä tai sinulla on kysyttävää, ota meihin yhteyttä sähköpostitse: activistaccessfund@gmail.com
———-
Aktivistisen saavutettavuusrahaston perustajina on ryhmä henkilöitä, jotka työskentelevät oikeudenmukaisemman ja saavutettavamman aktivismin ja toiminnan edistämiseksi Suomessa. Maksut saavutettavuusrahastoa varten kerää Feminist Culture House.
In autumn 2020, we will run workshops on grant writing and budgeting for groups of artists and arts workers. In some cases, we might be able to squeeze in personalised paid consulting. You can contact us with your needs, and sign up to our newsletter to stay informed of the workshop dates in autumn.
Our most recent "event" is the Poimu Summer Mixtape!
To see our past workshops and events, click here