Occupying margins / Occupying uncertainty: Conversations about how to work and live as an artist on unpredictable grounds
Occupying margins / Occupying uncertainty was a peer group for art and cultural workers dealing with Migri (Finnish Immigration Service). In 2019, it was led by artist Martina Miño Pérez. The need for this group sprung out of frustration and tiredness when being faced with a system that is based on dehumanising language, mechanisms of control, and constant check-ups. 
Beyond the already existing struggle of working in the culture field, many diasporic artists also have to take care of their immigration status, in order to remain in Finland. Constantly renewing visas and permits takes a lot of money, and requires a massive amount of emotional and mental energy. To be an artist and also a non-EU resident means to occupy a place of double uncertainty, where not only work seems intermittent and often unstructured, but the basic aspect of remaining and living in a foreign country feels unsafe and temporary.
The purpose of these workshops was to map the needs of the participants who have experienced any type of immigrational uncertainty that has affected their ability to work as cultural actors in Finland. Finding common grounds of needs and patterns in different experiences aimed to help us formulate concrete proposals and understand how the immigration system in Finland relates to diasporic people that work specifically in the field of culture.
To obtain more knowledge and to demand more clarity about the immigration processes that go on behind closed doors is in itself an act of resistance. For many of us, it feels these bureaucratic processes are disrespectful and lack transparency. This group hoped to find new ways through which art workers can support each other, find clear and accessible information, and feel safer throughout the immigration process.
The workshops examined themes such as:
Migri as a system of dependency; vocabularies of intimidation; statuses of migration: "alien" and "immigrant"; systematic harassment; Migri as an entity that defines what is a "professional artist" and what is valuable cultural work; mental health and emotional consequences of a violent immigration process; the responsibility of immigrants and their ability to respond; oppression in the name of protection.
In 2019, the group facilitated workshops in Globe Art Point and POIMU feminist anti-racist work space.
Martina Miño Pérez is an Ecuadorian artist and cultural worker who was based in Finland for five years. Her main artistic fields are experimental writing, collage, poetry, and edible art. She often finds herself working in between different value systems and realities that may conflict with each other, and force constant adaptations. Her work in different collectives such as Third Space and La Colectiva has allowed her to investigate the "in-between" character of being an immigrant worker who pursues a career that is also seen as an "uncharted territory", along with the transnationality of identity. She makes books, self-publishes, makes exhibitions, and writes around these subjects.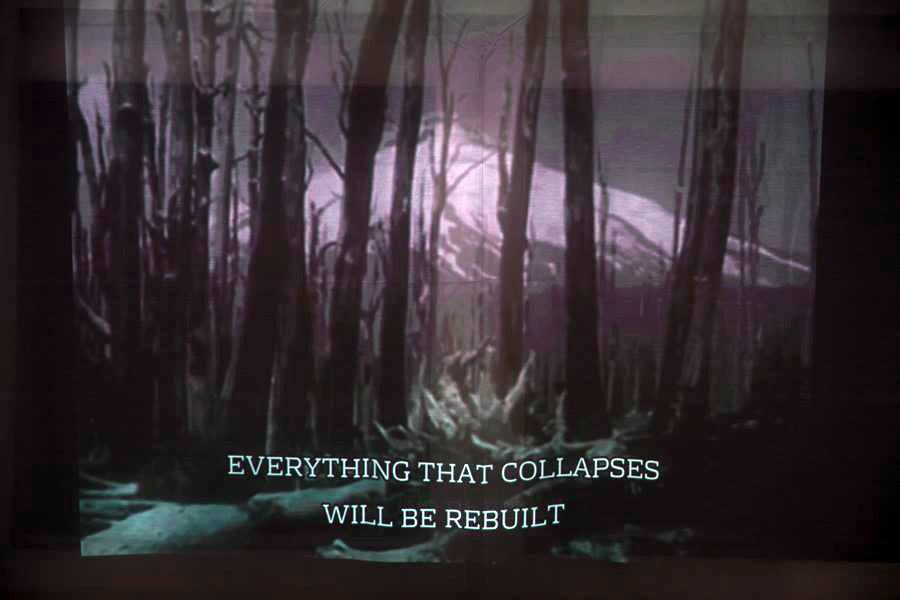 Image: Martina Miño Pérez, 2019. A dark image of forest-like scenery, with shades of purple and turquoise. Over the image a white text reads: EVERYTHING THAT COLLAPSES WILL BE REBUILT