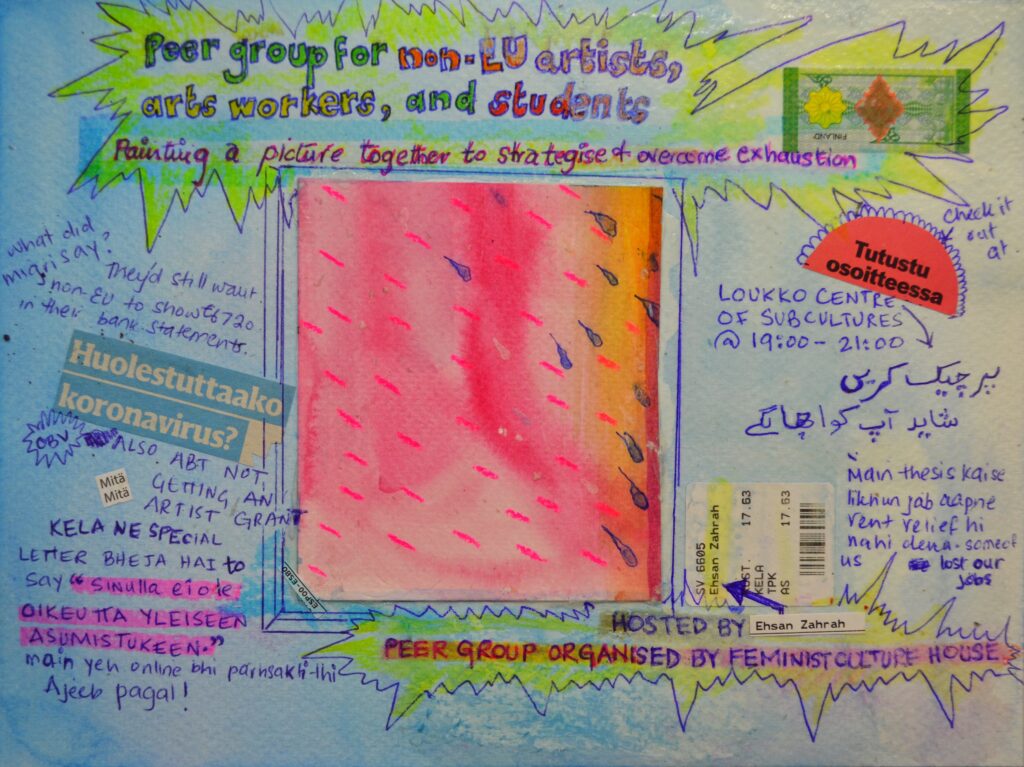 Painting a picture together to strategise and overcome exhaustion
Wednesday 2 September, 2020.
19-21pm at Loukko Centre of Subcultures, Castréninkatu 7, Helsinki
Here is a link to Loukko's website
Sign in for a peer groups session for artists, arts workers and students who come from outside the EU, and do not yet have permanent residency status. Please email katie@feministculturehouse.org to register, and introduce yourself with a couple of sentences.
The group is organised as a form of community care: a safer space for supporting each other, discussing the struggles we face as non-EU people in the arts, and for finding ways to navigate and collectively affect these issues.
The peer group is organised by Feminist Culture House, together with a rotating host from within the group. The 2020 host is Zahrah Ehsan, who will share artistic methodologies for coping with stresses that developed during the COVID lockdown.
The group comes together at a low threshold cultural and art space called Loukko, in Kallio, and gets to know one another by collectively painting and writing. This is imagined to be a moment of pleasure and rest, as we cope with the exhaustion and other feelings that have arisen in relation to the COVID pandemic.
Non-EU students, artists, and arts workers are far from their families and familiar places, and when the lockdown was imposed, there was no option but to remain in Finland. Many have either lost jobs or face unlikely work prospects in these unprecedented times. Nevertheless, Non-EU students were forced to pay for rent, food, and household bills, while facing the administrative and financial demands of migration services and next year's tuition fees.
Having reached out to Migri, universities, and student housing associations for financial relief during the lockdown, Zahrah—along with a fellow art student from another university—began collecting names of peers facing similar challenges, and started a petition as a result of not being heard.
Zahrah would like to share a method that helped her channel her energy differently while facing these struggles. The idea is to collectively maintain a visual diary for reflecting, creating, and sharing strategies, to support a growing network of non-EU artists struggling without much government support.
Who can join?
You don't need to have any specific educational background as an artist, nor any specific level of professionalism, in order to join. Particular levels of input and participation are not expected or required. An important element of the peer group is just hanging out together.
How will it work ?
A maximum of 10 people at a time can paint, but more can gather to talk and write—you may wish to just hang out, write, and chat. We hope that attendees take part in ways that feel good to them. You will not be asked to talk about your experiences more than you want to.
Languages spoken
The meetings are held in English, with a possibility for Urdu translations. If you have other language or translation needs, please contact Katie at FCH, and we will see if there is knowledge within the group to assist with this.
What is provided?
We provide materials for painting, vegan sandwiches/snacks, fruits, and coconut water. It is okay to bring your own food and non-alcoholic drinks into Loukko too, but the bar will be closed for the evening.
What about COVID?
Loukko will be closed to the general public, and we aim for the event to take place in person; please stay home if you are not well, and keep a safe distance in the space. We will provide gloves for touching shared materials, disposable masks, and hand sanitiser. We will begin the session by discussing how to conduct and situate ourselves in the space, so everyone feels comfortable. If COVID regulations in Helsinki change, we will either postpone the event, or meet online. For accessibility info and safer space guidelines of the event, please see below.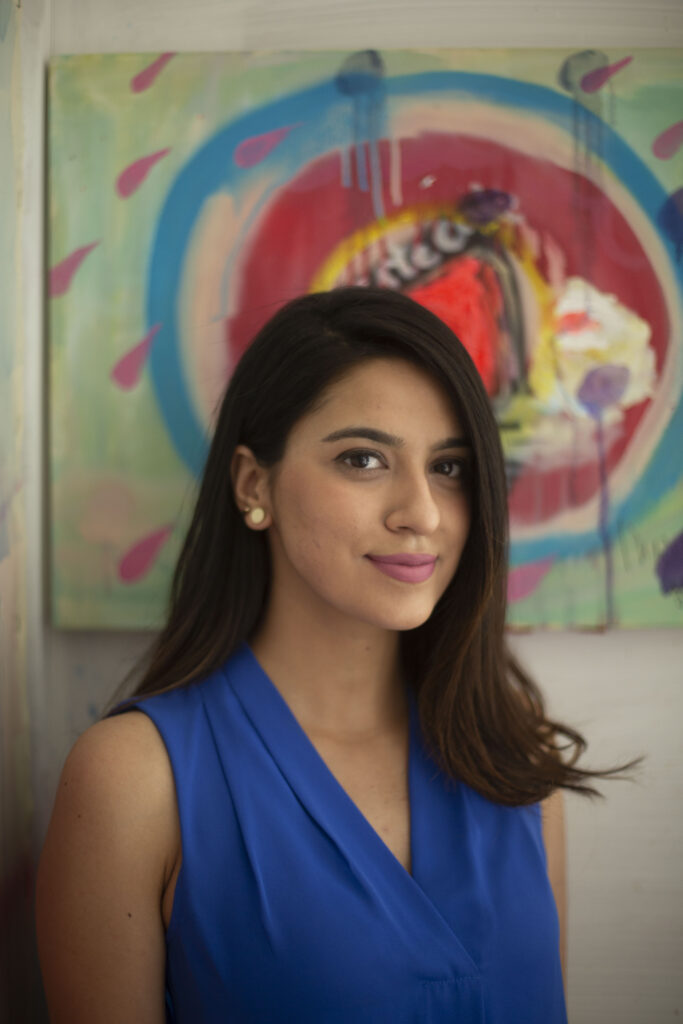 Zahrah Ehsan is a visual artist from Pakistan currently based in Finland studying MA in Visual Cultures, Curating and Contemporary Arts from Aalto University School of Arts, Design and Architecture, Finland. She received her BFA with Honours in 2012 from the National College of Arts, Lahore, where she concentrated on painting. Her training at NCA has allowed her to expand the boundaries of her practice through experimenting with painting, installation, photography, and performance. She has furthered her practice by exhibiting in galleries across Pakistan and internationally, as well as participating in an international residency at the Vermont Studio Center, USA.
Accessibility info:
The front door of Loukko has a ramp that's 1300mm wide and with the door open, 1070mm wide. The steepness of the ramp is about 8 degrees, or 7%. There's a railing that's 900mm high, beginning midway up the ramp. There are two doors, both 1000mm wide. Between the ramp and the small lobby there's a 50mm high threshold. Between the small lobby and the main space there is a 30mm high threshold.
There are three gender neutral toilets in Loukko, one of which is planned to accommodate people moving with assistants and aids. Its door is 1000mm wide.
The stall has 800mm free space on its right side, no free space on the left. When closing the toilet door, the space between the seat and the closed door measures 660mm.
Unfortunately there are no railings in the toilets yet. Loukko is developing the accessibility measures of the space, and we will update the info of our events held there when things proceed.
If you have any questions, concerns, or requests regarding the accessibility of the event, please email katie@feministculturehouse.org or contact Loukko loukko@kulttuuriloukko.fi 044 7160 222 weekdays 12-4pm.
Accessibility info and Loukko's safer space guidelines in Finnish, here is a link that takes you to this part of their website.
Here is a link that takes you to Feminist Culture House's Safer Space guidelines, which will be read out and discussed at the beginning of the session.